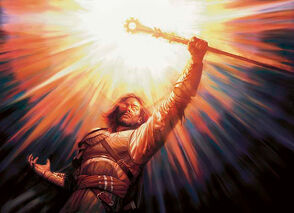 Light is the force of the Heavens, the strength of the blinding sun channeled, powerful, searing blasts and punishing rays. The force of Light is a Theos Element, and as such is one of the two most difficult to manipulate. It appeals to mages with a strong sense of right and wrong and unflinching courage and determination.
Light comes with a price, however. Being a Theos element, it slowly warps and changes the user, making them more and more of a reflection of the values it represents each time the Mage relies on it.
Further Specializations
Light is a Theos element, and as such can be combined with others to produce a Secondary Element. The amount of possible combinations is infinite, but here are some of the most common variations:
Secondary Specializations
There are other, rarer recombinations of the element of Light that are mastered by fewer sorcerers, requiring additional practice.
Elementals, Deity and Realm
The elementals of Light are the Angels, and the god of the heavens is Apollion. The realm of light is Heaven.